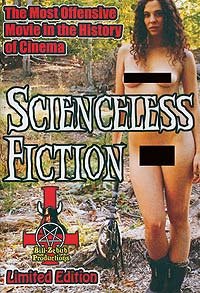 USA • 2014 • 109m •





• Directed by: Bill Zebub. • Starring: Nadine Theresa Stevens, Andrea Hall, Scarlett Storm, Lydia Lael, Genoveva Rossi, Steve Nebesni, Maeva Athena, Terra Incognita, Michael Cucciniello, Sean Murray, Stephanie Anders, Buzz Cartier, Rich Carucci..


An inept captain strands the ship in space, and a crew of throwaway people are dispatched to a nearby planet to figure out a way to either communicate with their allies, or discover a solution to their problems.
OK, I'll admit from the start I didn't watch this all the way through. I was sure I could find something better to do. I did, I forget what, but it was better than sitting through this ----- (Please Insert your own expletive here.) I usually think I can describe things with a modicum of accuracy, but this defies description. I'll try my best... No, I can't be any more bothered than the creators of this drivel were to create a script, sets, story, or reason for this "Movie." It does have some heavy metal music, some nudity, and Hitler. I can't make up my mind if it is advocating right wing thinking or "Trying" to subvert it using "Humour." Whichever it is intended to be, it comes over as a piece of stupid white supremacist propaganda.
Review by lightningslim from the Internet Movie Database.