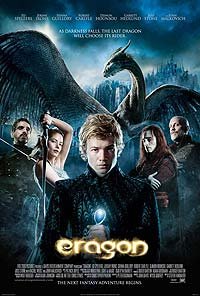 • USA / UK / Hungary • 2006 • 104m •





• Directed by: Stefen Fangmeier. • Starring: Ed Speleers, Jeremy Irons, Sienna Guillory, Robert Carlyle, John Malkovich, Garrett Hedlund, Alun Armstrong, Christopher Egan, Gary Lewis, Djimon Hounsou, Rachel Weisz, Richard Rifkin, Steve Speirs. • Music by: Patrick Doyle.






Orphaned farm boy Eragon destiny is sealed forever when a mystic stone chooses him for its keeper, this is no ordinary stone, this is the last surviving egg of the dragon race. Eragon is now the new Dragon Rider, the boy who will be savior to the repressed peoples of the Kingdom ruled by the wicked King Galbatorix and his evil wizard Durza. Running, hiding and battling across the lands with his mentor Brom and the gracious dragon Saphira, together, with the beautiful Princess Arya, this Band of Brothers learn more about themselves, their responsibilities and their destinies. Who shall succeed toward the end? Shall good overcome evil? Or will all be lost to the dark forces forever?