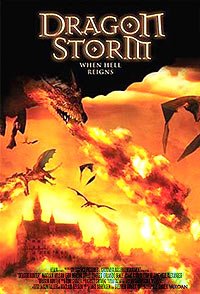 • USA / Germany • 2004 • 96m •





• Directed by: Stephen Furst. • Starring: Maxwell Caulfield, Angel Boris Reed, Woon Young Park, Richard Wharton, Tony Amendola, Iskra Angelova, John Rhys-Davies, John Hansson, Ivaylo Geraskov, Tyrone Pinkham, Jeff Rank, Maxim Genchev, Vlado Nikolov. • Music by: Richard McHugh.






Set sometime in during the Dark Ages, Dragon Storm is about dragons that fall to Earth in meteorites and start wiping out nearby towns. A cowardly, evil king is forced to ask for the help of a much nicer local king, and that nicer king appoints a huntsman, his daughter, an alchemist, a Chinese guy, and a woman who happens to have her own a ballista to kill all the dragons.