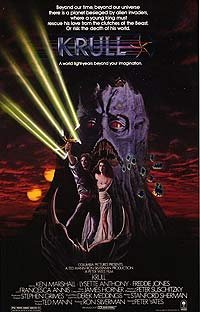 • UK / USA • 1983 • 116m •





• Directed by: Peter Yates. • Starring: Ken Marshall, Lysette Anthony, Freddie Jones, Francesca Annis, Alun Armstrong, David Battley, Bernard Bresslaw, Liam Neeson, John Welsh, Graham McGrath, Tony Church, Bernard Archard, Belinda Mayne. • Music by: James Horner.






The planet Krull has been invaded by the evil monster The Beast and his army The Slayers, two rival kingdoms have formed a alliance, as Prince Colwyn, the son of King Turlord marries Princess Lyssa, daughter of King Eirig, where Prince Colwyn and Princess Lyssa's marriage will unite the two kingdoms and both Colwyn and Lyssa will rule the lands of Krull. But during the wedding, The Slayers attack and Lyssa is kidnapped. Setting out to rescue Lyssa, Colwyn joined by a fellowship companions: the Seer Ynyr, a band of escaped convicts led by Torquil, Rell, a one-eyed giant, Ergo, a cowardly magician, Emerald, a blind Seer and a young boy named Titch set off in search of The Black Fortress where Lyssa is being held captive, where The Beast intends to marry Lyssa in it's evil goal to rule Krull along with many other worlds.