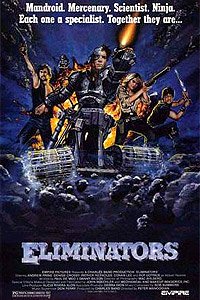 • USA / Spain • 1986 • 96m •





• Directed by: Peter Manoogian. • Starring: Andrew Prine, Denise Crosby, Patrick Reynolds, Conan Lee, Roy Dotrice, Peter Schrum, Peggy Mannix, Fausto Bara, Tad Horino, Luis Lorenzo, José Moreno, Charly Bravo, Miguel de Grandy. • Music by: Bob Summers.






Abbot Reeves is a renegade scientist who is conducting time travel experiments as he plots to travel back into time and rule the world. Reeves orders his latest creation, Mandroid, a cyborg constructed from the body of a pilot named John, injured in a plane crash to be dismantled. Rebelling against his evil creator, Mandroid escapes. Helped by robotics scientist Dr.Nora Hunter. Mandroid and Nora travel into the Mexican jungle where they go in search of Reeve's jungle fortress. Joined by Harry Fontana, a rogue river boatman and Kuji, son of Reeve's assistant Dr.Takeda (Who was killed trying to help Mandroid escape). Mandroid and his companions set out to fight back against Reeves and stop him from achieving his goal, as he plans to travel back into time to the Roman Empire and become the Emperor, as part of his goal to rule the world.