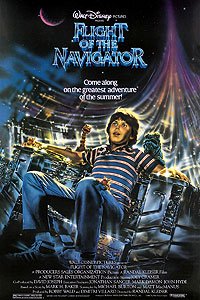 • USA / Norway • 1986 • 90m •





• Directed by: Randal Kleiser. • Starring: Joey Cramer, Paul Reubens, Cliff De Young, Veronica Cartwright, Sarah Jessica Parker, Albie Whitaker, Matt Adler, Howard Hesseman, Robert Small, Jonathan Sanger, Iris Acker, Richard Liberty, Raymond Forchion. • Music by: Alan Silvestri.






David Freeman is an ordinary boy destined for a most extraordinary adventure--aboard a spectacular, futuristic spacecraft. After a mystifying disappearance, David returns--possessing vast, undiscovered knowledge about the farthest reaches of the universe. With these sudden navigational powers, David is able to take the fantastic flying machine anywhere he desires, accompanied by a wisecracking robotic commander, Max, and an assortment of bizarre extraterrestrial creatures! Embark on a fun-filled, fast-paced journey of fantasy and adventure as David takes off on the flight of his lifetime!