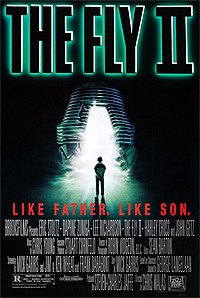 • USA / Canada • 1989 • 105m •





• Directed by: Chris Walas. • Starring: Eric Stoltz, Daphne Zuniga, Lee Richardson, John Getz, Frank C. Turner, Ann Marie Lee, Garry Chalk, Saffron Henderson, Harley Cross, Matthew Moore, Rob Roy, Andrew Rhodes, Pat Bermel. • Music by: Christopher Young.






A few years after Seth Brundle, or BrundleFly, met his demise by Veronica's shotgun, she dies after giving birth to its son, Martin. Seth's employer, Bartok, adopts Martin, only to have the genes so he can use them to create a super army of genetic flys. A few years later, Martin is fully grown, even though he is five, and the fly genes start to wake up and make him just like dear, dead dad. With the help of his girlfriend, Beth, they go to wherever they can find help. But Bartok finds them, brings them back, but before Martin finishes his transformation into MartinFly.