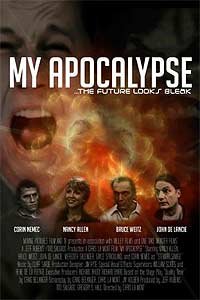 India / USA • 2008 • 82m •





• Directed by: Chris LaMont. • Starring: Corin Nemec, Bruce Weitz, Nancy Allen, John de Lancie, Gail Strickland, Meredith Salenger, Jesse Bob Harper, Jennifer Blanc-Biehn, Rollin Herold, Rif Hutton, Misa Koprova, Jeff Kueppers, Mary Elizabeth McGlynn. • Music by: Cliff Sarde.



Stewart Savage lives in an idyllic, soft-focus universe, where his girlfriend adores him and his family is as wholesome as the Osmond's. He also lives in a world where he strangles his girlfriends, hates his meaningless job and prefers the psychotic solace of the world inside his head. The polar ice caps have melted and flooded the world while Stewart's dating life has reached an epic drought. Unaware of the rift between preferred and actual reality, Stewart brings his latest girlfriend home to meet the parents for a family birthday celebration, not fully realizing that she is his latest victim. Accustomed to their son's antics, the helpless Savage's play along with Stewart's quickly devolving sense of reality while attempting to bag the fresh body before their cohabiting neighbors arrive. With shifting realities at odds with one another, Stewart's descent into madness holds his family, and the family that shares their housing unit, hostage. More horrific than being held at gunpoint by a serial murderer are the truths that surface when a family is forced to speak to one another candidly.