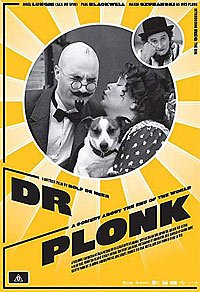 Australia • 2007 • 85m •





• Directed by: Rolf de Heer. • Starring: Nigel Martin, Paul Blackwell, Magda Szubanski, Wayne Anthoney, Phoebe Paterson de Heer, Bogdan Koca, Quentin Kenihan, Sam Brooks, Celine O'Leary, Joey Kennedy, Joanna McGovern, Jeff Lang, Joshua Jaeger. • Music by: Graham Tardif.





It is the great year of 1907. Dr Plonk, eminent scientist and inventor, calculates that the world will end in exactly 101 years unless immediate action is taken. As befalls visionaries through the ages, Plonk is ridiculed for his beliefs, by politicians, by bureaucrats, even by his faithful manservant Paulus. Being the lateral thinker that he is, Plonk invents a time machine and sets out to collect the necessary proof from the very future that's ending. But little about the year of 2007 makes sense to the intrepid doctor. His efforts to alert the appropriate authorities cause him to fall foul of the law and become a hunted man. With the nation's entire law-enforcement system arrayed against him, a scientific question is posed...can Dr Plonk run fast enough?