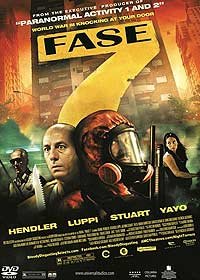 • Argentina • 2010 • 95m •





• Directed by: Nicolás Goldbart. • Starring: Daniel Hendler, Jazmín Stuart, Yayo Guridi, Federico Luppi, Carlos Bermejo, Franco Burattini, George Bush, Emma Chang, David D'Orazio, Julieta Dorio, Irene Giser, Patricia Gutierrez, Fiorella Indicatto. • Music by: Guillermo Guareschi.





Coco has just moved to a new apartment with his wife Pipi, who's seven months pregnant. At first, they don't seem to notice the growing chaos around them, but when authorities quarantine their building after a deadly pandemic breaks out, Coco joins forces with his off-kilter, but well-prepared and stocked next-door neighbor Horacio to defend his refrigerator and keep Pipi safe. Meanwhile, outside the building, Buenos Aires-and the world as the apartment denizens know it, is disappearing. The world is ending; got ammo?