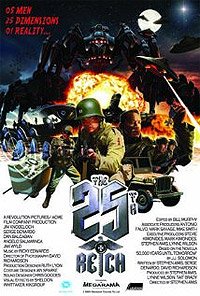 Australia • 2012 • 85m •





• Directed by: Stephen Amis. • Starring: Jim Knobeloch, Serge De Nardo, Angelo Salamanca, Jak Wyld, Dan Balcaban, Lisa-Skye Goodes, Chris Goodes. • Music by: Ricky Edwards.






It's 1944, and the Third Reich is crumbling as the Allies close in on all fronts. But Hitler has a secret weapon up his sleeve - a spaceship fleet to strike back and smash the invasion of the Untermenschen! Five American GIs are stationed in the Australian outback on a top-secret mission, with only their wits and a time machine standing between them and Earth's domination under the jackboot. Can they thwart the evil Nazi plans to crush humanity and rule both space and time?