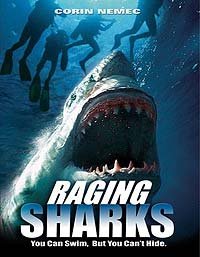 • USA / Bulgaria • 2005 • 92m •


• Directed by: Danny Lerner. • Starring: Corin Nemec, Vanessa Angel, Corbin Bernsen, Todd Jensen, Elise Muller, Binky van Bilderbeek, Simona Williams, Jonas Talkington, Michael P. Flannigan, Atanas Srebrev, Emil Markov, Julian Vergov, Les Weldon. • Music by: Stephen Edwards.




One of nature's most powerful creatures just got a whole lot hungrier. A collision between alien spacecrafts sends strange debris hurtling into the Pacific Ocean not far from an undersea scientific research station, which is manned by oceanographer Mike, his wife, Linda, and naval supervisor Captain Riley. The alien matter has a strange effect on the great white sharks who live in the area; already powerful predators, soon the sharks develop a voracious taste for human flesh, and begin attacking Navy divers, with an eye on Mike, Linda, and Riley as his next entrées.