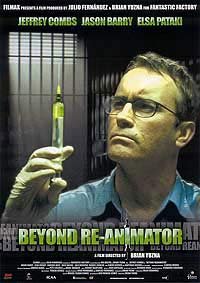 • Spain / USA • 2003 • 96m •



• Directed by: Brian Yuzna. • Starring: Jeffrey Combs, Tommy Dean Musset, Jason Barry, Bárbara Elorrieta, Elsa Pataky, Ángel Plana, Javier Sandoval, Santiago Segura, Lolo Herrero, Enrique Arce, Nico Baixas, Simón Andreu, Joaquín Ortega. • Music by: Xavier Capellas.




After thirteen years in a prison ruled by a very mean director, Dr. Herbert West is invited to be the assistant of the new-comer Dr. Howard Phillips, a brilliant resident, in the penitentiary infirmary. After being introduced to each other, Dr. Phillips discloses that the last experiment of Dr. West killed his sister thirteen years ago, when he was a boy, and he became fascinated with the possibility of bringing dead people back to life. The journalist Laura Olney, who is covering a matter for her newspaper in the prison, has an affair with Dr. Phillips, and they fall in love for each other. However, the experience of Dr. West looses control and the place becomes a branch of hell.